The Nextdoor application is a community social media platform. The idea behind the app is to help neighbors communicate with each other, organize local events and share information about what is happening in the community.
Nextdoor also has a business page that allows you to promote your company locally by interacting with members in nearby and surrounding areas.
In this article, we will describe how to set up your Nextdoor business page and some of the metrics you should track, as well as some of the benefits of using the app for marketing
What is next door?
Nextdoor is a social networking application for the community. The company provides a private online network to keep residents updated on the latest situation in their neighborhood and help build stronger communities around the world. The Nextdoor application is now used in more than 260,000 communities around the world, including the United States, the United Kingdom, the Netherlands, Germany, France, and Australia.
Thousands of public institutions use the application. The company has received more than 40 million recommendations on Nextdoor.
next door Describe yourself As a "neighborhood center for reliable connections and the exchange of useful information, goods and services." Nextdoor requires new users to prove where they live before registering. This can be done by phone or postcard.
The strength of the Nextdoor social network depends on the distance between neighbors. Nextdoor starts with the local community, stays true to the true meaning of the community, and provides positioning tools so that brands can directly find audiences in postal codes.
What's the use of Nextdoor?
Nextdoor is an application used by people and businesses for various reasons. Here are some of the most common uses:
Meet neighbors
Ask a question or post a poll
sell things
Buy things or request services
organize event
Get advice
Post a reminder
You can find and share crime updates near you, report graffiti or street lamp failures, or help other users contact reliable babysitters. Nextdoor is also a great place to share reminders about upcoming sales in local stores.
Companies use Nextdoor to:
Run local discount ads
Interact with the community
Share special offers
Measure their local reputation
How to create a business page on Nextdoor
Want to create a company profile on Nextdoor? This is a step-by-step guide.
How to create a Nextdoor account
Get it from the app app Store or Google play, Or visit www.nextdoor.com And choose registered.

Add your zip code, address, and email.

Add your name, password, and gender preference.

Enter your phone number. Or choose another method to verify your account.

Let Nextdoor know how you want your address to be displayed.

Set up your profile.
How to join Nextdoor as a business
access www.nextdoor.com/create-business.
Log in to your account.
Choose whether you will use personal email or corporate email.
Search your business
Nextdoor will provide a list of businesses, if you don't know one of them, you can create a new business page.
Fill in your address and click carry on.
Set up an email account where neighbors can contact you, as well as phone numbers and websites.
Start creating a new page by selecting the appropriate business category.

How to set up your Nextdoor business profile
Now that you have created a Nextdoor business account, here is how to set up your profile so that people can easily find you.
In the business profile dashboard, click Upload logo image. This will take you to the basic information form.
Upload a cover image.next door recommend 1156 x 650 pixels.
Add a logo image. The size should be 500 x 500 pixels.
Share your story. Think spot is similar to the bio or about me section on other social networks. There are a lot of words, so please tell the story of how or why you started. But be sure to start with a clear description of your business, product, or service at the top.
Update your contact information. Add your phone number, website, email, and business hours.
Add more categories to describe your business. This will make it easier for others to find you. For example, if you run a restaurant, you can add: restaurant, Chinese restaurant, and restaurant takeaway.
Fill up your photo library. Choose photos that represent the products and services provided by your business. You can also add menu images or pricing information here. After uploading, the images can be reordered by dragging and dropping.
How to promote your business on Nextdoor
It is easy to promote your business on Nextdoor in a variety of ways. First get recommendations from local users. Then, attract users by answering their questions and comments. You can also place local discount ads on Nextdoor.
How to get next-door recommendations
Your business will not appear in Nextdoor searches until you receive three recommendations from your neighbors. Nextdoor recommends that you share your business on other networks to help expand your profile.
How to reply to neighbors on Nextdoor as a business
Nextdoor members can write posts, tag companies, mention them in posts, or send private messages to company pages.
Reply to comments:
Click on Neighbor Comment In the left menu.
Select comment and select Write reply. Add your message.
Click on Reply send.
Reply to private message:
Go to inbox In the left sidebar.
Select a message and click Write your reply Reply.
Click on Reply send.
How to create local discount ads on Nextdoor
Local deals are the main paid product on the Nextdoor platform. This is how to create them.
In your business account, click Create a local transaction From the left menu.
Add a title. Nextdoor recommends a brief description of your transaction.Up to 120 characters
Fill in the details. You can describe the transaction in more detail here. Mention how members should redeem the transaction, and if you wish, please provide some background information about your business.
Set the duration of the local offer. The campaign runs for a minimum of 7 days and a maximum of 30 days.
Add a link to your website.
If applicable, add terms and conditions. You can also add a unique redemption code.
Add photos. Nextdoor recommends choosing one without text. Aim at 1156 x 600 pixels.
Preview your local offers.
Choose your audience. Use the toggle button to adjust according to the block or price. You can also search for audiences within 10 miles by postal code. The price you see is a one-time flat rate.The average cost of a local transaction is approximately 75 USD. hit Next.
Check your order. If you are a first-time customer, you also need to add payment details.
Click on Submit orders.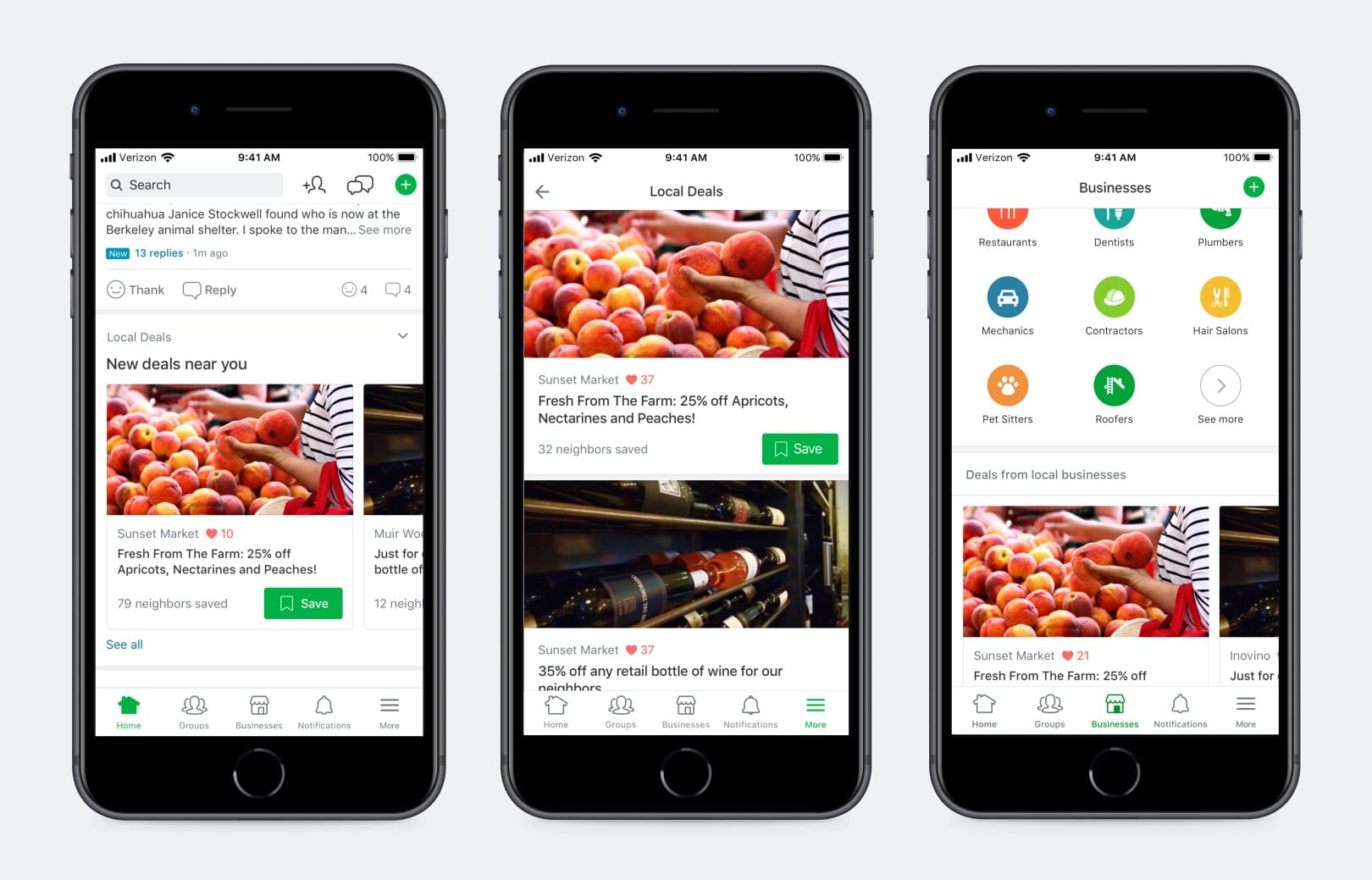 Key metrics tracked on Nextdoor
Recommended next door It is one of the most important indicators on the platform. The number of recommendations you receive and the quality of those recommendations are the keys to organic growth.

Neighbouring community It is an indicator that tells you how many communities can see your business profile. To appear in more communities, please get recommendations from them. Only communities within a 50-mile radius are eligible.
Next door neighbor Tell you how many people can see your business on the platform.
Organic Neighborhood Range It is the number of communities you can see on Nextdoor without promotion.
Local discount pageviews Tell you how many times your local offer has been viewed in the Nextdoor app.
Local transaction clicks Tell you the number of clicks on local offers on the Nextdoor app.
Local offers Measure the number of times local offers have been saved.
Next door to business and organization: tips and best practices
Here is how to use Nextdoor to build a strong influence for your business or organization on the platform.
Encourage recommendation
If you don't ask for advice, willing customers may not know to offer advice. If you do, they can improve your search ranking, reach, and position in your local community.
Post a sign on your storefront, send an email or write an A Blog post, Or share on social media that you are using Nextdoor. Remember, only your local neighbors and nearby neighbors can make the best suggestions.
Create local discount ads
The first paid product that appeared on Nextdoor was Local Deals. These ads will appear in the "Business" section of your business page, in the "Daily Digest" newsletter and related searches.
To create one, you must provide a local transaction. What could it be? anything. It all depends on what your goals are and how much you want to spend on your campaign.
For example, Florence, Italian restaurants in Florida, Use local discounts to keep busy during the off-season.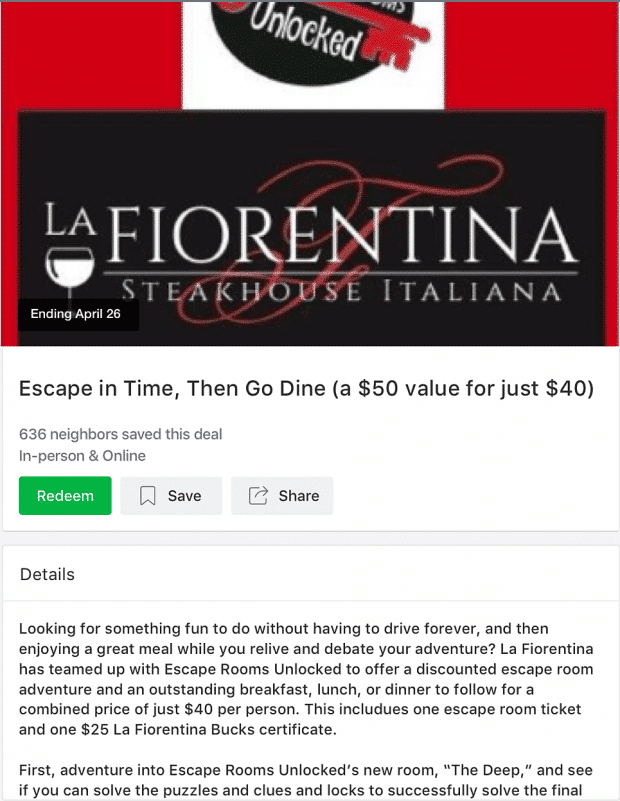 Respond to customers in time
On social media, customers expect companies to respond quickly to their questions. On Nextdoor, the difference between good and bad response rates can determine whether someone gives your business a second chance.
If you find yourself being asked the same questions frequently, please create a library of frequently asked questions. Consider updating your profile with answers to frequently asked questions.
Thank you also for your recommendation. Use Nextdoor's reaction button!

Use Hootsuite to save time and manage your social media presence. Schedule and publish posts, attract viewers, and track performance on the same dashboard. Try it for free today.
Easily manage all your social media in one place, and Save time with Hootsuite.